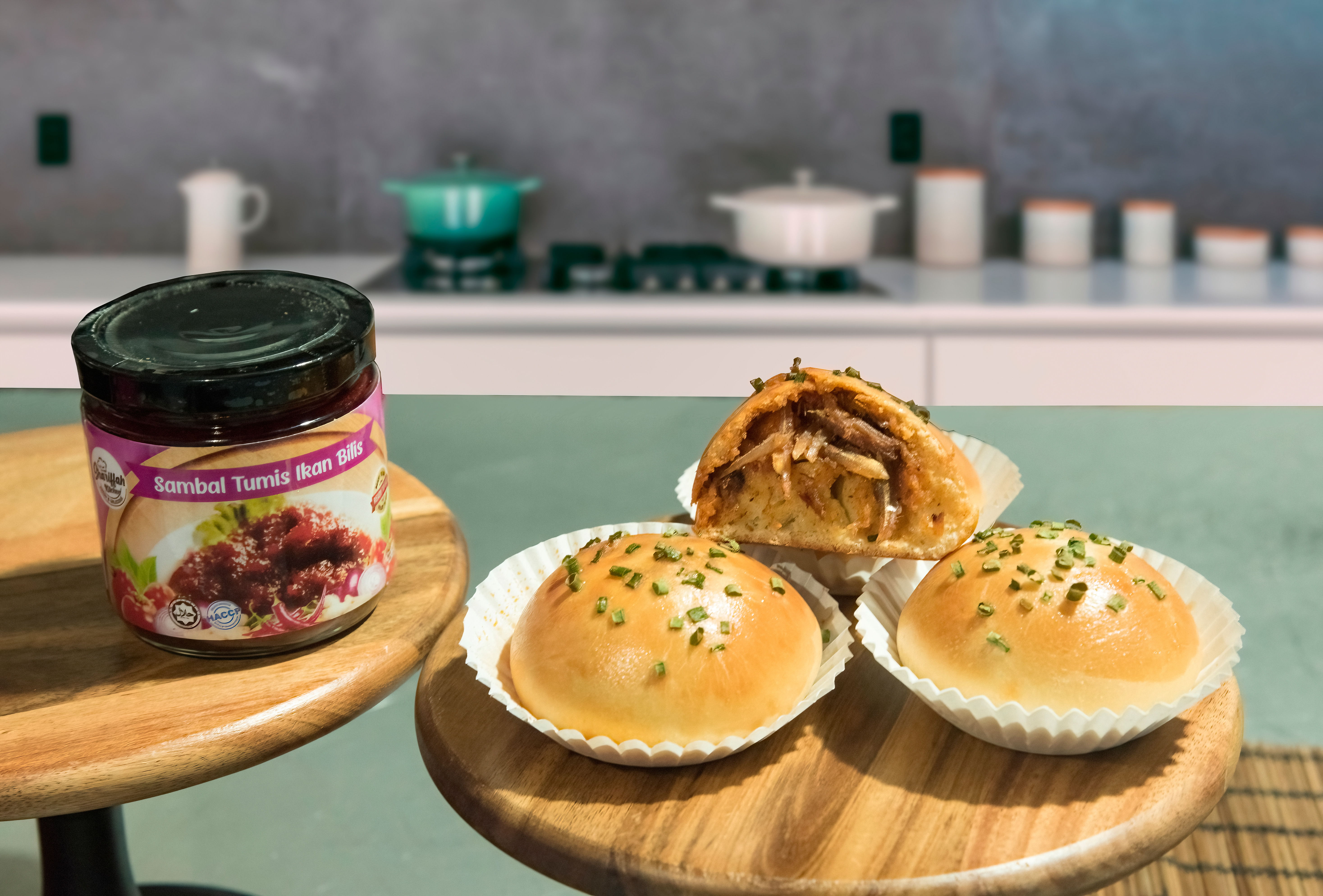 Fillings Ingredients:

Quantity
Ikan Bilis (Dried Anchovies), soaked and drained:
1 cup
Sambal Tumis Ikan Bilis
(Sauteed Chilli with Anchovies):
1 bottle
Dough Ingredients:

Quantity
Fine sugar:
4 tablespoons
Milk powder:
2 tablespoon
Instant yeast:
2 teaspoons
Egg, small (leave some for egg wash):
1
Methods:
1. For the filling, fry onions and leeks with some oil. Add ikan bilis (anchovies) & fry until slightly crisp.
Add in the
Sambal Tumis Ikan Bilis
(
Sauteed Chilli with Anchovies
)
. Set aside to cool
.
2. For the buns, combine flour, water, sugar, milk powder and yeast with a dough hook and stand mixer. Mix at medium speed for about 5-7 minutes.
3. Scrape the bowl, add in salt, butter, and eggs. Continue to mix at medium speed for another 5 minutes until the dough looks shiny, smooth, and not sticky.
4. Transfer to an oiled, large bowl. Cover with cling wrap and leave to rise for about 1-1.5 hrs.
5. Punch dough down and knead the dough on the floured table to form a smooth dough. Divide into 16 portions. Form into a ball, pinching the underside and rolling onto the table to smoothen the balls.
6. Flatten and roll the balls with thinner edges. Put in about 2 teaspoons of the filling. Pinch and seal tight. Leave to rise, covered on a baking tray for 30-45 minutes.
7. Brush with egg wash, bake in a preheated oven at 180 °C for about 20-25 minutes until golden brown.